Idolomantis diabolica (Devils flower praying mantis) ootheca hatching
I've acquired some Idolomantis diabolica (devils flower mantis) ootheca – and really forgot how fantastic this species was. I've not had these in culture since last year, the nymphs are a great size, and they have an incredible appetite.
It seems the secret to these thriving is really hot temperatures – between 28-35c, and a good spray once every 3 days (and of course an abundance of food).
So far I've had 3 ootheca hatch, and have several more incubating at the moment. If anyone is interested in one of these ootheca, then please email me using the contact form – link at the top of the page.
Each ootheca hatched between 30 and 60 nymphs, so quite varied hatch sizes.
Here's a few photos of the Idolomantis ootheca and nymphs: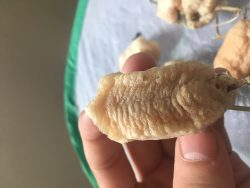 Categorised in: Blog
6 years ago